Looking to rent out a car of your choice every so often?
The travel needs of the users vary depending on their schedule and they may opt for short term or long term car rental plans accordingly. There are many situations in which the short-term car rental plans could be the best option that serves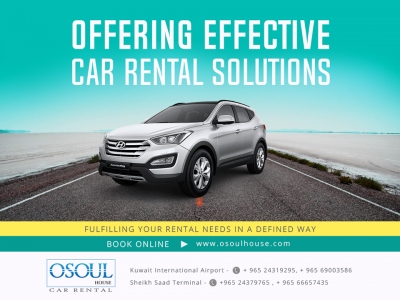 your business purpose. Perhaps you would require a vehicle to transport some employees on temporary assignment in another office or to support office activity.  Whatever the reasons be it, you will be able to find the deal that suits your requirement.
When it comes to any business purpose or individual or corporate needs in Kuwait, it is comfortable to get high-quality deals from the leading car rental provider in Kuwait – Osoul House. The service provided by the company is second to none in the industry and what makes Osoul House a reliable rent a car provider in Kuwait is that it has the capacity to meet your enterprise car hire requirements, be it short term or long term or leasing.
Here it brings up some of the benefits of services offered by Osoul House Car Rental.
Flexibility: If you are looking for a flexible way to meet your travel plans, then short-term car rental would be the ideal choice that fits your budget. The company comes with suitable short-term car rental plans that have no hidden charges or other extras.
Choice: By registering with the best car rental company, you are getting access to a huge fleet of vehicles. You will be surprised by seeing the huge collection. At Osoul House, the company is proud to offer a wide range of commercial vehicles than any other rental company in Kuwait. So if you require a sedan, hatchback or a saloon, your requirement will be done.
No maintenance cost: Simply forget about the maintenance cost, when you hire a car from Osoul House. It won't cost you if anything went wrong with your rented vehicle. You will be offered a replacement vehicle in the event of such instances.
Types of vehicles: Being the best rent a car company in Kuwait, it offers all types, models, and size of vehicles. With the arrangement of new vehicles, you get the feeling that your dream of owning your desired car has got fulfilled.
Roadside Assistance: In the case of any breakdowns or damages, the company offers roadside assistance to help you out. In the worst case, free car replacement will be offered.
Rental programs: To satisfy the various requirements of customers, Osoul House provides various rental programs including short-term rental plans, long-term rental, and leasing programs.
With the focus to enhance the renting experience, the company comes with various other value-added services that truly will leave you surprised. If you are looking out to explore a great car rental experience in Kuwait, Visit Osoul House website to book your favorite vehicle.
Please follow and like us: