Great month of Ramadan is here again. It's the time to plan for a great vacation or visit your relatives or friends in Kuwait.
Fulfilling the travel needs would be the major concern when planning for a trip and to complete it, visitors mostly depend on private vehicles. The advantage of renting is that it brings an environment that is very friendly and cohesive as well. Once everything is figured out, the next thing in your way is to rent a suitable vehicle that serves your needs in a comfortable way. Here comes the importance of a car rental service.
Have an exciting Eid with Osoul House – Avail the special offers
Adding more surprises to this festive season, Osoul House, the top car rental company in Kuwait is there in the service to offer you a convenient, comfortable and flexible travel plans at discounted prices.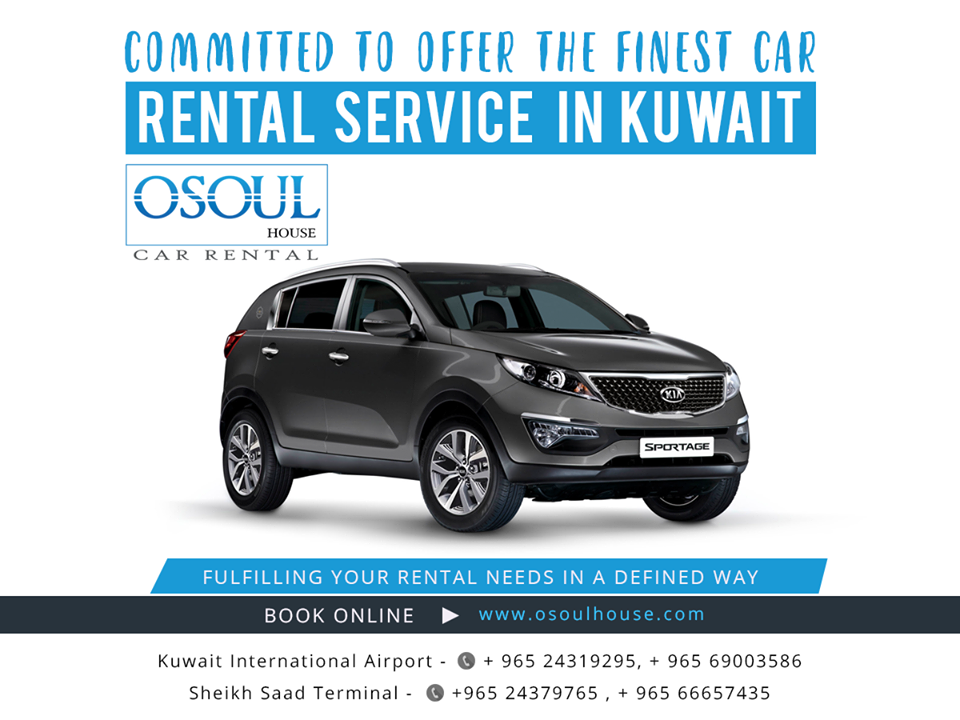 What's interesting is that suitable vehicles are available for every type of travel need. Whether it is a short term, long term rental or leasing, the company comes with a fully equipped service that makes you really astounding. Moreover one can count on for all kinds of extra amenities. Upon landing at the Kuwait International Airport, you can avail the service of Osoul House Car Rental and there is really no reason to be apprehensive when you land up in Kuwait for any purpose.
What's more special about Osoul House?
Offering excellent service in time of need
The services being offered at Osoul House is simply outstanding. Usually, the company goes beyond customer expectation and makes them pleasantly surprised with affordable and comprehensive service offers. As the services are available in the major destinations of Kuwait, you find it easy to avail the service next to your doorstep. Adding more to it the service operative in Kuwait International airport extends the sense of contentment upon landing – you can move right away from the airport.
Some of the other services you get include
Chauffeur driven service
Worldwide international reservation and payment
Replacement vehicle options
Favorable rental plans and more
Throughout customer service
Downgrade and upgrade options
Being a foremost rent a car company in Kuwait, it has many other options that enrich your travel experience. Book your favorite vehicle and enjoy the vacation/official purpose or others to the fullest with the best options. Click here to book your preferred vehicle now.
Please follow and like us: