The trend is clear; car rental service is fast becoming the choice of travelers who travel frequently. If it is for professional or personal reasons, people find it easy and practical in utilizing the rent a car facility. The biggest advantage is that one need not to be worried about the vehicle related tensions other than the fueling.  Next big thing lies in choosing the service provider – It is an imperative element to think about, as providers come with so many options and facilities to lure customers. So once you have decided to hire a car, it is worth to decide on the experienced car rental providers in the region.
You come across several providers while searching internet, boastful about their services plus the collection of their vehicles too. It could be just eye catchy; but it is not certain to receive the full sort of services as they proclaim. Therefore it is essential to have a proper enquiry on the service they provide, trust worthiness, customer support and so before you decide to rent a car.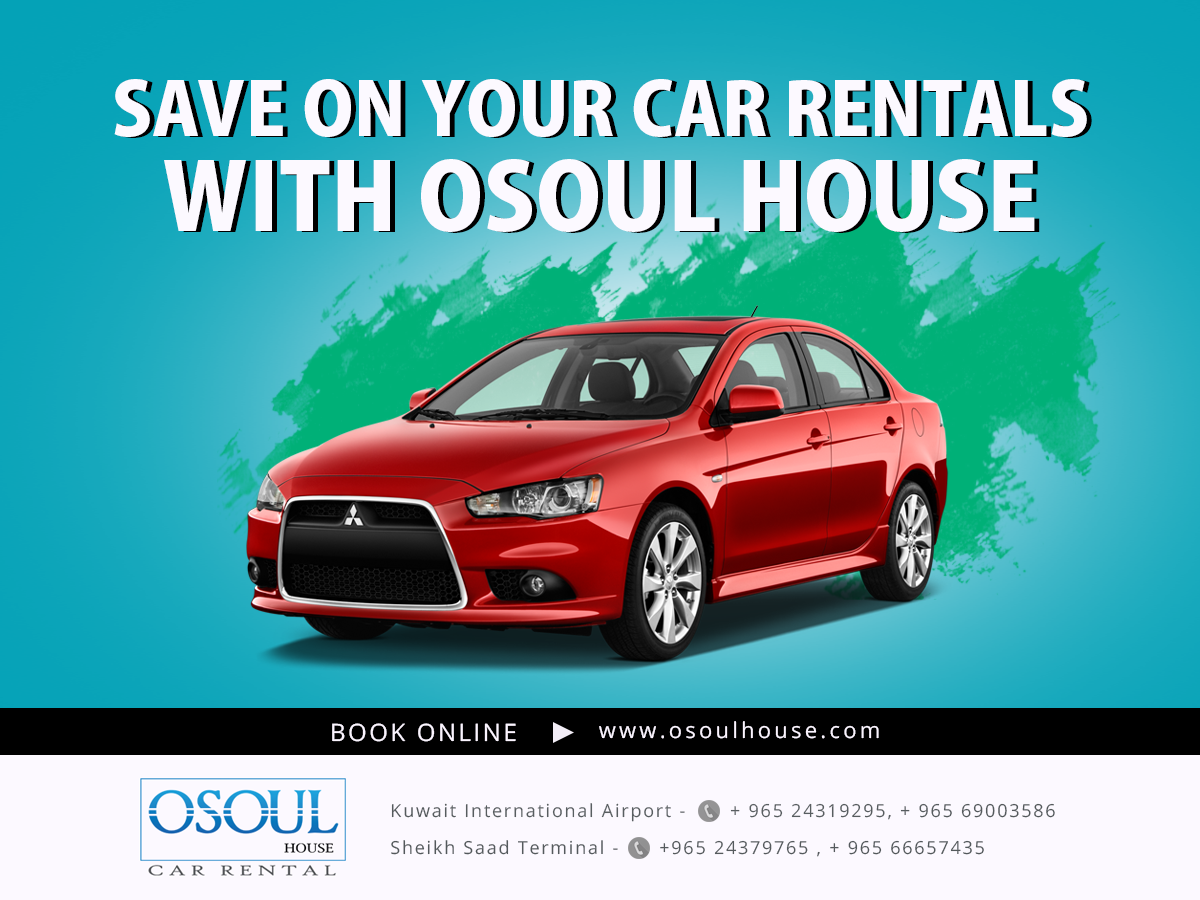 Enjoy your travel with the best car rental service in Kuwait – Osoul House
Hiring a car of your choice will open many opportunities that give you freedom to explore the destination of your choice with great fun. A good car rental company provides the service to the ones liking with additional facilities and convenience. They provide you with right info on what and what not are to be followed and will be provided with the right support in case of any events.
Why Osoul House Kuwait?
Hiring a car with Osoul House Kuwait is easy. The company has the greatest collection of all model new vehicles including SUV's, budget friendly cars, compact SUV's, Mini vans, Cargo Vans, intermediate and luxury cars etc. Being the best car rental company in Kuwait, it also offers great deals on range of styles. What makes Osoul House service so important is that the customer can make an informed decision about which rental service works best as per their suitable needs. They make it accordingly and ensure that the customer receive the best travel experience. The options are truly worthy where the customers can pick the car of their choice as per the requirements – be it for business or pleasure trips -from the multiple centers in Kuwait.
Osoul House in Kuwait has the large fleet of vehicles compared to other operators in Kuwait. Another important feature is that the company offers only latest cars under economic and luxury segment.
The portfolio of service the company provides include
Catering all types, models and makes of vehicles
Worldwide international reservation
Online reservation
24×7 Rental service
24 Hours Road side assistance
Airport access throughout
Long term lease for corporate and individuals
Special offers
Available at all major locations
Any time upgrade and downgrade
The benefits customers get includes the guaranteed rates, full service, replacement of vehicles, 24 hours assistance and no hidden costs. We offer the best plans that let you have complete relaxation and fun. Enjoy the service with the world best car rental company in Kuwait – Osoul House.
Be it personal or official – if you are organizing a visit to Kuwait and you are in need for a dependable rent a car facility, then contact us for the best and affordable service. Make each moment of your travel more transparent and memorable.
Please follow and like us: