The car rental industry has grown drastically over the years due to the increasing demand for a better and sustainable mode of transportation. It has several factors supporting to the growing success of this industry. What makes the car rental a recommended option for different travel needs, be it short term or long term rentals?
Here it explores the important advantages of car rentals.
Easy availability: No matter the kind of travel requirement, customers have the way to find suitable vehicle options based on their budget. If to attend the business meeting or to traveling to another city, the service offers varied rental needs to suit the customer needs.
Accommodating large group:  Typically a hatchback car can accommodate not more than 5 people. However for those who wish to travel in larger group, car rental is a perfect option.  Most car rental providers these days allow customers to pick their choice of vehicle according to the needs while some provide assistance to select the suitable one based on individual or corporate requirements.
No tension regarding maintenance: The biggest advantage that the rental cars have over personally owned car is that the customers never need to think about the maintenance part. There must be some guidelines to be followed in case of any accidental damages to their vehicles caused by customers. It typically involves the advance security amount or other minimal charges.
Rental cars are economical: Rent a car gets the advantage over the personal cars when it comes to economy. This allows the customers to save a lot while enjoying a hassle free travel experience.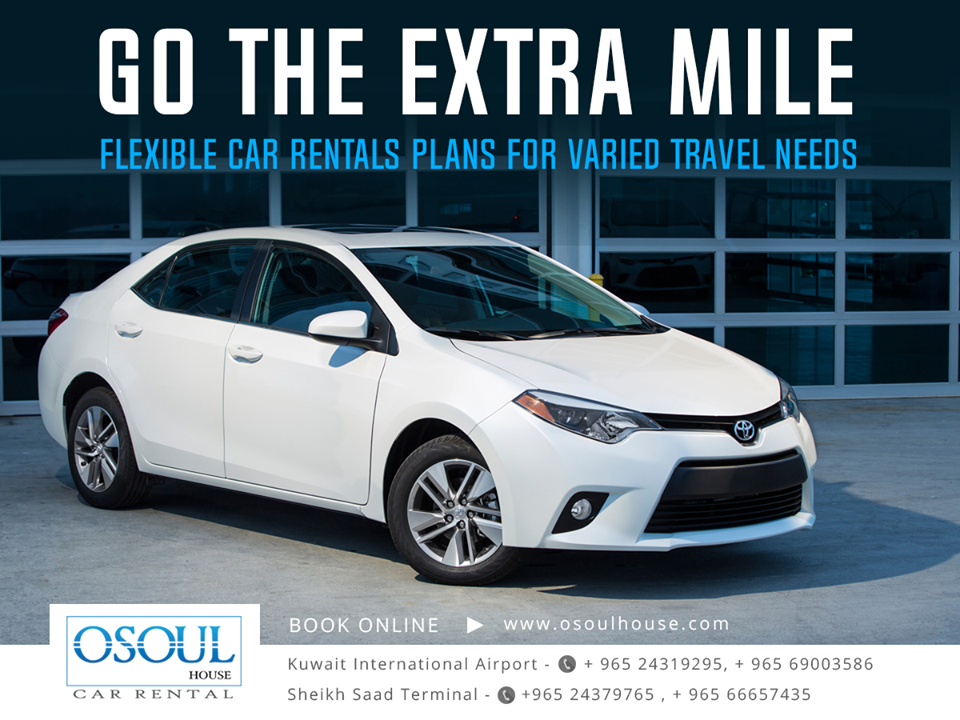 Enjoy a detailed drive with Osoul House in Kuwait
Osoul House is a celebrated name in the car rental service in Kuwait. With the largest fleet of vehicles, ranging from the mid-size cars to large and luxury segments, the company serves the customer travel needs in a well-defined approach. To manage services, Osoul House has its own distinct short term and long term rentals that clearly satisfy the traveler's purpose within the budget frame. It also introduces various other travel plans that find it easy for the corporate class and designed for those who do not want to drive their own.  When you land up in Kuwait to attend a meeting or an event or to visit Kuwait and decided to utilize rent a car facility, Osoul House Car Rentals is the name you can fully depend on for all the travel needs.
Please follow and like us: