There are a number of things you should keep in mind when considering a car rental Kuwait. Not just booking your favorite car and pay the price, as a savvy driver, you can also give a rental car a quick inspection before signing any agreements and driving out.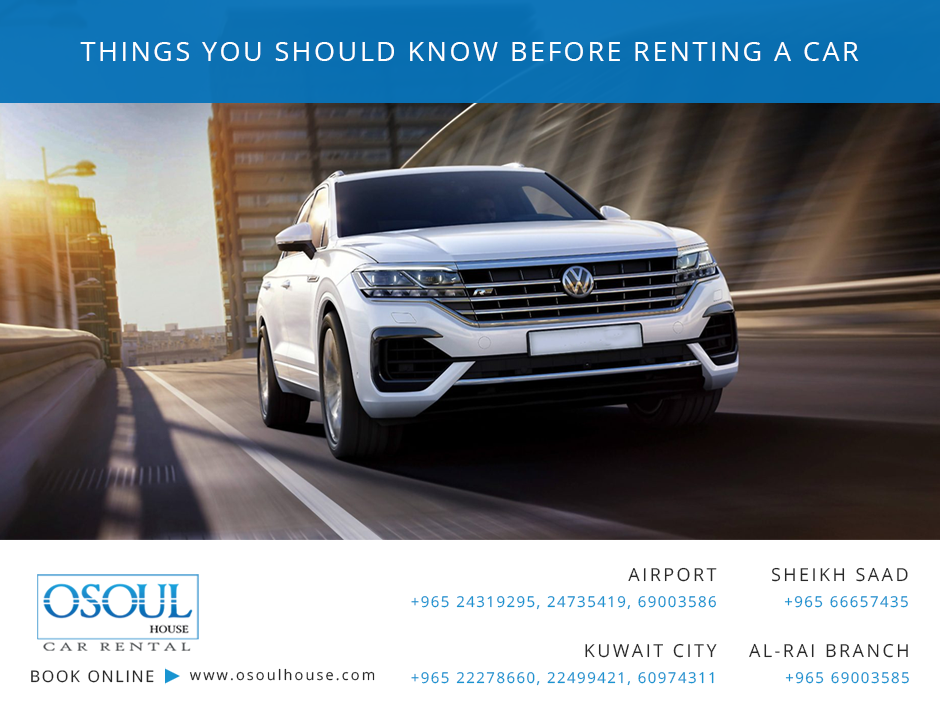 Here are some tips you need to check before you hit the road.
– If you have been offered any insurance by the rental provider, you should know the details of the insurance policy. Does it cover the roadside assistance calls or any damages? Have a thorough understanding of the policy and pick out the suitable optional policy only.
– Seek the assistance from your rental agent and walk around the car with a flashlight. Look for the safety conditions of the vehicle such as the uneven tire-tread and the lack of sufficient air pressure, plus the clutch and brake conditions.
– Inside the car, do a quick test of the headlights, turn signals, windshield wipers, and dome light. Identify an inflated spare tire, and jack.
– If you are not familiar with the kind of vehicle you hire, have a thorough understanding about the troubleshooting tips, information about dashboard symbols and the abbreviations that are not familiar from the owner's manual available in the car.
– Use paper towels to do a quick check of the fluid levels, including oil, antifreeze, transmission fluid, brake fluid, power steering fluid, and windshield washer fluid.
– Before you hit the road, though might be an expert driver, do a quick short test drive with the rental agent to ensure the car handles and brakes work well and is not making unusual sounds.
– And finally what is important is, it is always good to choose the car type that you are able to handle. If you usually drive a hatchback, a full-size SUV is not a good match. Ask for the make and model that you normally handle for a greater comfort and convenience, so that you will have an idea on the vehicle operation.
Be aware that you are renting a car; hence before heading for a road trip, you must ensure the vehicle is mechanically good. If these things sound unusual to you, nothing to worry about, always depend on leading rental agencies. They rent you out the cars that are mechanically sound and take care of your concerns very responsibly.
When it comes to renting a car in Kuwait Osoul House Car Rentals car rentals is a dependable name in the industry which has the modern and certified fleet of cars that are ready for your any rental needs. The company comes with the best rentals – be it for long term rentals or short term rentals or leasing, that you can flexibly choose to fulfill your personal or business purposes.
Please follow and like us: