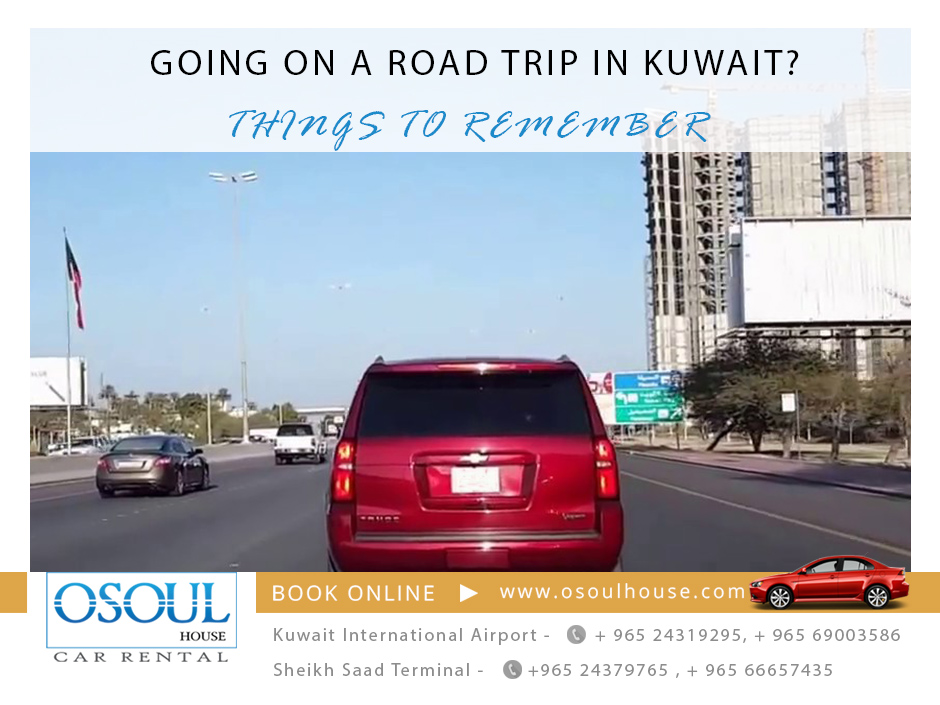 Dreaming of a lovely road trip in Kuwait? Car rental is all you need to make your trip so exciting and enjoyable.
Desert road trip, journey through mountain passes, zooming around the city? Wherever you are heading to, the best way to make a journey exciting is to rent a car facility. You can take advantage of the rental plans offered by Osoul House car rentals in Kuwait.
Got the car?  Here is how to ensure a smooth journey
Protection first. Don't picture up a perfect road trip before you have checked the weather forecast and the road conditions. This is particularly important if you are planning a trip with your family. Ensure you have the local emergency numbers or any of your friend's number, the insurance details, and a charged mobile- just in case.
Plan your itinerary ahead to make the trip joyous – While driving to long distance, you have to prepare an itinerary so you can make the most of your journey. It's not just about the destination, right? You can always have a few stop-offs which make the trip even more memorable.
Check your car – Before starts your journey; check the condition of your hired vehicle. Cross check if it is in the best condition and if there is anything to fix, contact the provider right away and clear the troubles or swap the vehicle with other.
Pack your snacks: You will never know when hunger strikes. Just to be safe, bring delicious treats you can eat while on the road.
Have enough cash: it would be fine to have enough cash in your wallet. You never know when it will be needed. Though you might have the international debit or credit card with you, it won't be helpful in the emergency situations. So make sure you have enough cash with you.
Save all emergency contacts – Ensure you have the emergency contact numbers written in a book or paper and carry with you always on the trip. If you had your smartphone dead in emergency situations or on an isolated road in Kuwait, you can use the hardcopy to trace out the numbers.
Inform your friends or family – Everyone wants to keep their trip uncommunicated to their close ones. But if you're planning a road trip somewhere remote, let a friend or family member know your route and expected arrival time.
So you laid the groundwork for a journey in Kuwait, planned to cover long mileage; – the next thing is to book a suitable car with your favorite rent a car company in Kuwait. You will find the best rental deals around to make headway.
Please follow and like us: