When you are planning to take a long trip, it is better to invest in a Rent A Car Kuwait rather than using your own (if you have). Renting a car can be good in many ways. You want to make the car rentals as good as possible and never want to be uncomfortable on the road. Before you book your car, take a look at how you can choose, rent and enjoy the perfect rental car for your vacation.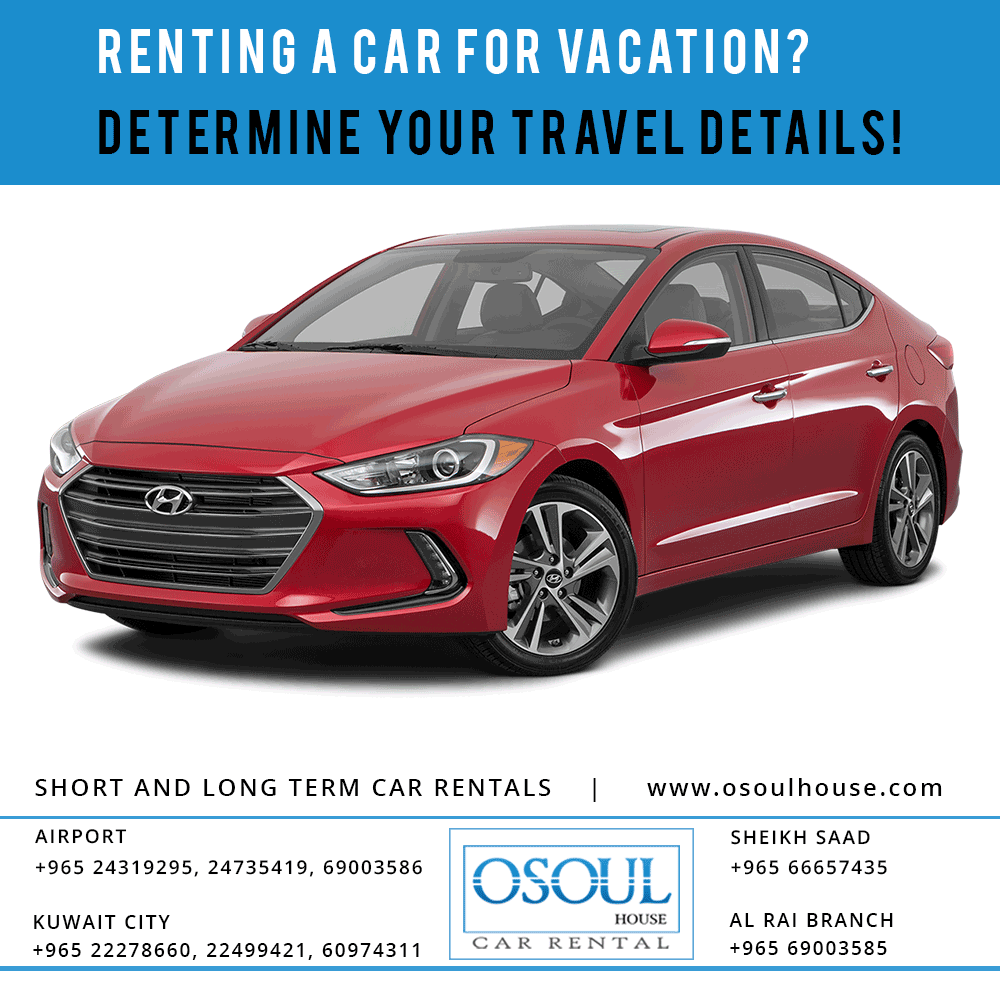 Define your travel details
Reserve your rental car with pick up and drop off times:
Once you have booked flights to the destination, reserve your rental car with pick up and drop off times that allow enough time for you to get to and from your flights. Also, be sure that you include your flight number and airline in the car rental reservation, so the car rental company can adjust any delays that affect your schedule.
The type of rental car you should reserve:
The trip that you are going to take will influence the kind of car you need. Might be that you need the car for a long vacation. Naturally, the vehicle choice for these sort of trip will have to be balanced, only then you can accommodate all the passengers conveniently An assessment that covers all your preferences is what is essential when it comes to the car you are renting.
The cars in Osoul House car rentals in Kuwait come in all shapes, sizes, and colors, from the economy car the premium SUV, which are enough to fulfill your travel needs. If you have small kids, you can avail the baby safety seats with your vehicle.
Do you know where you're going?
If you are driving to the destination through unknown terrain, it is better to drive with a GPS device. It will be helpful to reach the destination with ease and travel to nearby attractions without going round in circles. If you prefer to explore destinations nearby, you can use this tracking system to easily locate.
Ask a rental car member to explain how the GPS device works, and remember to ask any specific questions you may have. When inputting an address, be as specific as possible for the precise results and acquainted with the settings too.
Take your time
Irrespective of the situation, it's significant that you take your time when signing up for a rental car. After you have agreed to the travel requirements and the number of people who joins, you can book the appropriate type of car that suits your travel needs. Before you start the journey, it would be better to have the car inspected for any indoor and outdoor damages. Even at the time of returning as well, make sure you and the staff have a chance to review the car together. In order to avoid being charged for damages to your car rental vehicle that you did not incur, be sure to inspect the vehicle for such things as dents, scratches, and broken features.
Go with the reputable car rental company
It's usually better to rely on the service of trustworthy car rental providers. For example, you can book your car with Osoul House Car Rental, Kuwait when you are planning to visit Kuwait for a vacation. The process to rent a car from this provider is so simple and transparent. Here are some reasons why Osoul House car rental is the best.
It offers cars with affordable rates and the rental plans are one step ahead than its competitors.
You would not want to be stranded in the middle of the road due to any breakdowns. With Osoul House Car Rental, Kuwait, you are sure that you will get the roadside assistance that is available 24/7.
The company ensures that your travel desire never goes in vain. There is a wide range of vehicles available to choose from to fulfill each of your travel engagements. We all want to drive well-maintained cars and with Osoul House, you are sure to get the best ones.
Please follow and like us: