Self-drive is always fun and excitement particularly if you are on a long-distance road trip with friends or relatives. It's the time to revive the memories of the past, enjoy time by telling stories and having long conversations. It just brings endless joy and amazement where it covers all aspects. Self-drive car rental is perfect when you decide to have a long road trip.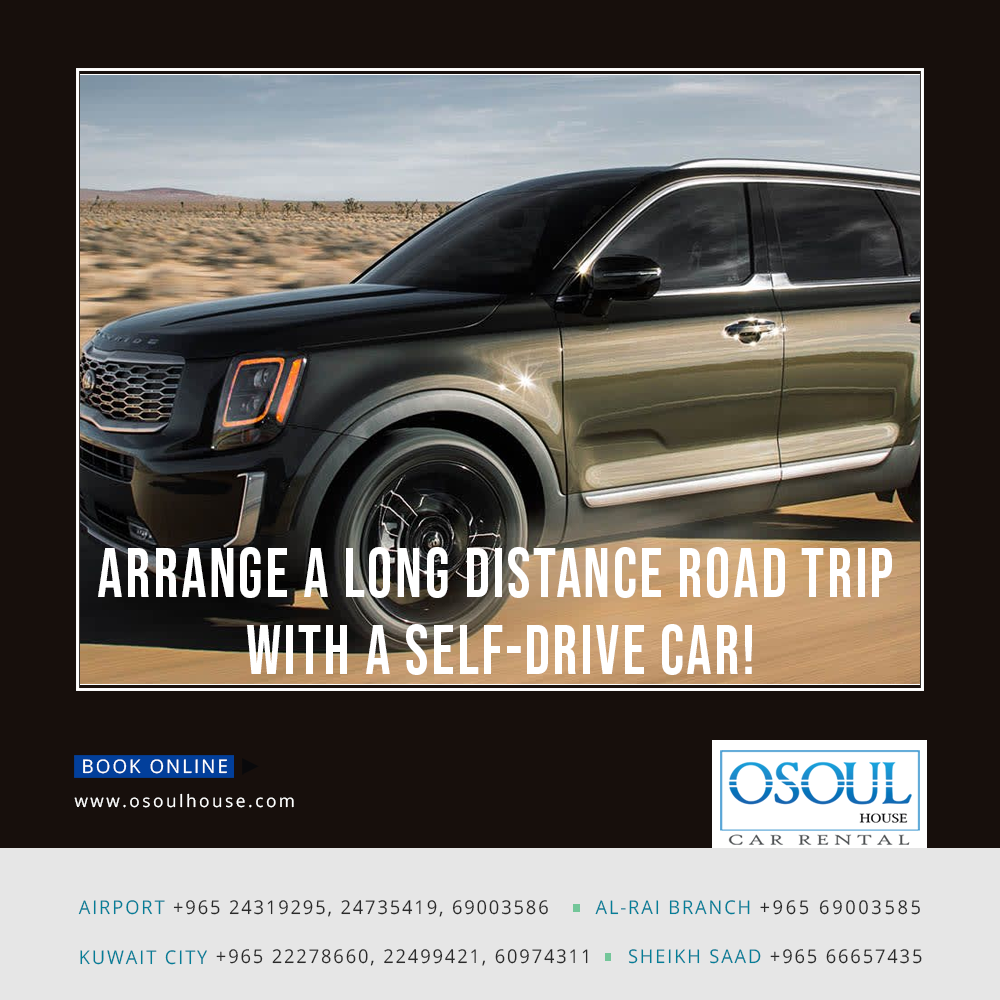 Car rental companies provide you qualified vehicles for your journey with necessary services/features. It's like never-ending excitement you experience in the Middle East roads especially in Kuwait. You have the best options to select the car of your choice – the car suited for both the family and friends – with respect to style and comfort with the leading car rental company in Kuwait – Osoul House Car Rental.
How a self-drive car is advantageous?
It would be more convenient and practical to hire a car and drive it yourselves rather than to get a 'chauffeured service' for all your travel purposes. Because not only it gives the freedom of travel, but also a cost-benefit. Here are some of the reasons why self-drive rentals are better.
Experience convenience and comfort in self-drive
Only on a few occasions, you get to enjoy with your friends or relatives. You feel uncomfortable if you are being driven by an unknown driver who meddles with you on occasions and listens to your conversations. These incidents will kill your travel spirits and could turn to an unpleasant experience. At the same time, the self-drive car rental option is really worth that keeps you all connected throughout the journey by keeping the privacy.
Depending on public transport and taxis in Kuwait is somewhat messy and instead off doing so you can easily drive a car at your own convenience. You may book online the car of your choice greatly save on the road trips.
Recreating old memories in road trips
You get a thrill out of the journey with your friends/relatives on a perfect road trip. You can have the best moments together and certainly with a self-drive rental car you get the chance to spend quality time with them.
Freedom:
A self-drive will make you more relaxed, as it provides the freedom you want in your journey. You can schedule the trip as you have planned and stop as and when you desire. You do not want to deal with a running meter and a driver who needs to take another trip whenever you becomes free.
Self-drive – Just drive as you want
You often find travel spots in between that you wish you could visit on the way to your destination. Here is the beauty of self-drive, where you could discover each and every aspect of nature and stop at the destinations you like. You can discover the beauty of deserts in Kuwait and unwind as much as you can in the sand dunes. Self-drive is a great way for those who love long road trips and to spend quality time with friends.
And Finally….
With the self-drive car rental, you can experience an exciting drive as well as a journey if you are an enthusiastic driver. It simply brings immense pleasure and fun to the long journey when you take a self-drive rental car. And to experience with the best car rental company in Kuwait add up more pleasure.
Why Osoul house car rental is the best?
Car Rental services provided by Osoul house in Kuwait allow you to choose a category of cars online.
Rates are actually competitive: the rates are very reasonable and the package is mostly better than the other companies.
Roadside Assistance: You do not want to be stranded in the middle of the road on your own, right? With Osoul House, you are sure that reliable assistance can help you out in every situation.
Well Maintained cars: And of course, we all want to drive great cars. With Osoul house, you are sure to get only the best ones.
Get the advantage of booking your car online from any part of the world via visiting their site.
Please follow and like us: