Instead of relying on expensive taxis and public transport systems, you can depend on rent a car to take control of your good travel. Rent a car allows you to arrange your travel plans better and that too within your own convenience and comfort. Whether you are planning for a business trip or a leisure trip with family, relatives or your friends, you can find your comfort in the car that meets your needs.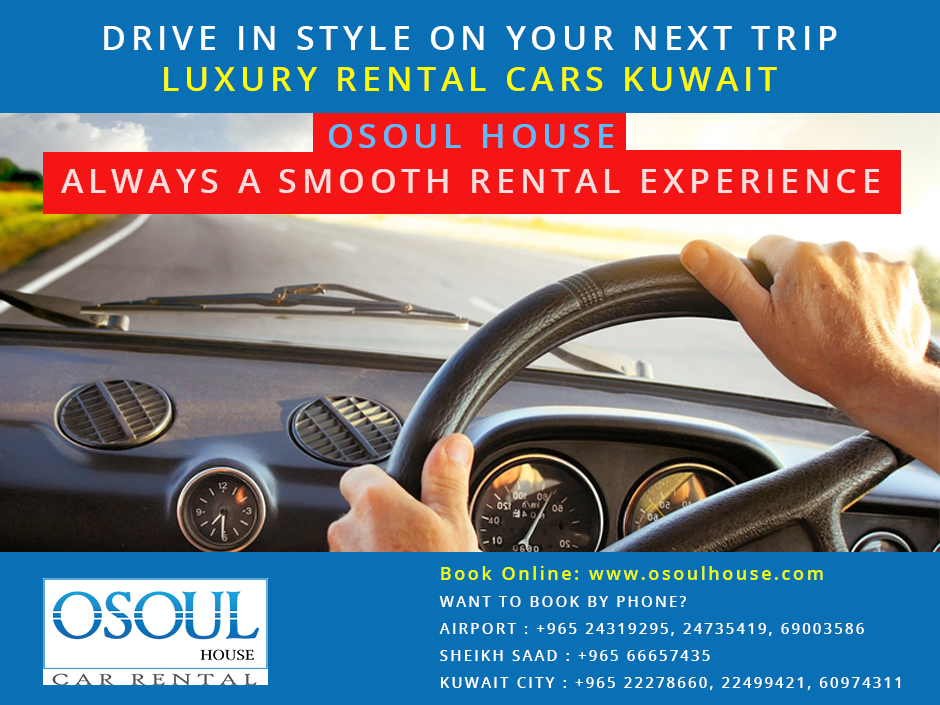 Car Rentals are now becoming a favorite travel option for the travelers and locals alike. What matters the most is, with the car rentals one can enjoy the convenience of driving in a way you like. With a wide range of cars from economy to luxury, Osoul House car rentals have all the flavor to surprise its customers that explicitly meet their demands. This rental company in Kuwait promises good deals on offer that gives customers the best of experiences.
Why renting a car is beneficial?
Renters will have their own travel intentions or objectives, and it's clear that no other travel options serve better than renting a car.
Let's have a look at why a car rental is a good option in most times: It gives you the freedom of movement, convenience, and comfort. It will be like you are the owner of the car until you hand over the car to the rental company.
Money Saving
Money saving would be the best part you can enjoy when you rent a car for your travel purposes. You can decide the route as per your comfort and wish, and at the same time, you do not have to worry about the scheduled maintenance and the insurance as well. This way you can save a big on your budget.
Airport service
Now, these days, to make the travel easier, passengers can avail the rental facility from the airport itself. It adds more convenience to the users by operating from Airport where they can straight away make use of the rental service upon landing. For a traveler who flies frequently, the on-airport car hire service is a great blessing.
Osoul House has its service operating from Kuwait International Airport and Sheikh Saad terminal as well to facilitate its fellow customers.
Comfort
Car rental companies take care to provide the finest conveniences to surprise the customers that extend good comfort and enjoyment.
Experience the change with Osoul house car rental Kuwait
Osoul House car rental is good at providing quality car rental service in Kuwait. The company owns the reputation as the largest rental provider with an exclusive collection of most modern cars. Come with the flexible rental plans and leasing services, it turned out to be the rental hub of professionals, individuals, and organizations.
The services being provided are well defined and you feel it more comfortable than you ever experienced.  With its ability to fulfill the services with a wide range of vehicles, this biggest car rental company Kuwait opens new doors to client's varied travel requirements. Important benefits customers get includes the guaranteed rates, full service, replacement of vehicles, and 24 hours assistance with no hidden costs.
Please follow and like us: